Wide selection of rifles
onsite gamefields to test your equipment
over 1200 sq ft airsoft store
clothing and accessories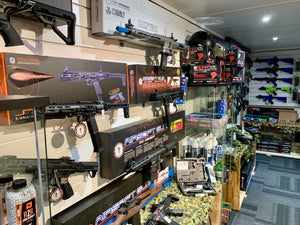 Welcome to the EMA Online Store
East Midlands Airsoft (EMA) has developed over the past few years into one of the leading Airsoft sites in the country. With this growth the demand for parts and accessories on game days increased so we created a small friendly shop for our players. Enquiries came in for a variety of weapons and different clothing. At the start of 2021 we pushed ahead with expanding the store and our selection of equipment available. We now have over 1200 sq ft of airsoft store. Our team are extremely passionate about playing airsoft and are on hand to assist with any enquiries you may have.
EAST MIDLANDS AIRSOFT MEMBERSHIP
East Midlands Airsoft Club has its very own dedicated site and purpose built recreation area in fabulous undulating woodlands. We are approachable, welcoming, open minded, positive and enthusiastic about airsoft! 
We take pride in getting to know our members and introducing new players to the sport. The Club has over 250 Members and with their help we have grown into one of the biggest Airsoft sites in Lincolnshire. Join us for one of our Walkon days, talk to the team and meet some friendly faces.
You can become a member for only £25 annual membership fee. You get a free patch and £5 discount on 'walk on' fees.